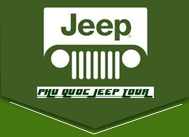 Established since May 02, 2014, Phu Quoc Jeep Tour is the first brand in Phu Quoc often organizes Special Private Tours By Jeep.
From the first days of difficulty, sure you also often see a jeep was pulled by many people, in a certain place on this beautiful island. Simply it is the help of everyone when your jeep can not go. But it's short time, the fame of Phu Quoc Jeep Tour has spread around the World. After you open an internet browser any, access to Google search and type in Phu Quoc Jeep or Jeep Phu Quoc then click Search, you'll find lots of informations and pictures about Phu Quoc Jeep Tour on Tripadvisor.com, Google.com, facebook.com or on any famous electronic sites network.
Get the great idea of making great things from most simple things, they have collected jeeps were abandoned on the battlefield in the southern of Vietnam after Vietnam war to fix them and then use them for business. You can hire a Jeep to drive by yourself or join of Special Private Tours By Jeep Around Phu Quoc island.
The people like the Army Jeep for two reasons: The first, it has associated with the Vietnam War - Historical value. Remember that the Jeep used in the military, it served directly during the Vietnam War in 1964-1975; Another reason is it designed simple - environmentally friendly but very powerful - Economic value.
Produced and upgraded from the years 1640-1944 in the United States, present in Vietnam in 1944-1945, directly participated in the battlefield South-Vietnam from 1964 to 1975, and now Army Jeeps are still running like "hero men". Is not it too famous?
And having another special thing be you will never believe that in few fisrt years of Phu Quoc Jeep Tour, they need only one staff for doing everything, that person is Thomas or Thông. He is a manager, as a guide, as the driver or who to answer any questions of you when you contact Phu Quoc Jeep Tour. With Thomas, he always think that "Quality is the most important thing", when you have good service, customers will look to you, the price is only a secondary problem! Also because having good thinking, plus the efforts of Phu Quoc Jeep Tour in nearly two years, until now they have had a certain success.
And Phu Quoc Jeep Tour will also further upon the support from all of you. Sincerely thanks!
With total size about ​​500 square kilometres, almost 70% of the area is mountains - jungles and a lot of beautiful wild beaches, the Jeep was a great choice for the purpose of exploring this beautiful island. In addition services by Jeep, they do the tour by New Cars with air condition also, services for Fishing and Snorkeling, Kayaking, Bicycle tours, Mortobike tours, Speed Boat Trip to discover paradise islets (Fingernail islet, Gam Ghi islet and May Rut islet), Jungle tours, Camping tours, Climping tours, Culture tours, etc etc, ... .would also welcome your support!
More details about us